New York is often mentioned as one of the top cities on everyone's travel wishlist. National and international tourists flock to the city in the hopes of having the time of their lives, but these dreams are often postponed or shattered due to the high costs in the city.
Although New York is not one of the cheapest places in the world, it can be done reasonably cheap. Eating and having a good time in the city is not strictly connected to high prices. If you avoid the touristic Midtown, you can have a variety of fun and pocket friendly alternatives, which can make your trip an unforgettable experience. Furthermore, embrace New York's love for the alternative and underground, and explore the city like a local.
Accommodation
 We cover all of the major hotels in New York, from the most exclusive to the most budget conscious rooms. Our partner hotels are spread throughout the whole city, and once you find out where you want to stay, you can certainly find a cheap room in the area.
Eating
New York is known for it's high class international cuisine. We have selected some of our budget friendly favorites, so both your belly and wallet leave the city satisfied.
Mexicue
 This successful Mexican restaurant is one of our favorites, when it comes to Mexican food. Although it is surrounded by Asian cuisine in the famous China Town, it is definitely worth the visit. They have a wide selection of burritos, tacos and sliders (small burgers). Their cooking is daring yet traditional. A delicious and alternative way to save a few bucks.
Info:  Mexicue | Mexican Restaurant
106 Forsyth St, Manhattan | +16465594100
Mon – Wed 11:00 – 22:00, Thu – Sat 11:00 – 00:00, Sun 11:00 – 21:00
Pastosa Ravioli
If you feel like pasta, then this place is definitely for you. Their specialty is stuffed shells with a wide selection of delicious fillings. Apart from their selection of pre-ready foods, they also offer ready dishes like stuffed mushrooms, Arancini , various salads, fresh mozzarella, and crispy Bruschetta covered with Gorgonzola, tomato and basil. It is definitely worth the visit.
Info: Pastosa Ravioli |Tortellini (packet) US$ 5.49
7425 New Utrecht Avenue | +17182369615
Mon – Sat 08:30 – 18:30, Sun 08:00 – 15:00
Blue Collar
 If your stomach starts to growl while walking around in Brooklyn, a delicious option is  Blue Collar's hotdogs and flat burgers. Taste the traditional NYC hotdog and personalize it with American cheese, lettuce, tomato, chopped onion, pickles and mayo-based special sauce. You can stop by and get it to-go for affordable prices.
Info: Blue Collar| Average cheeseburger US$ 5
160 Havemeyer St. store 2 Williamsburg Brooklyn
Between South 2nd and 3rd Sts
Mon–Thu, Sun 11am–midnight; Fri, Sat 11am–2am
Aux Epices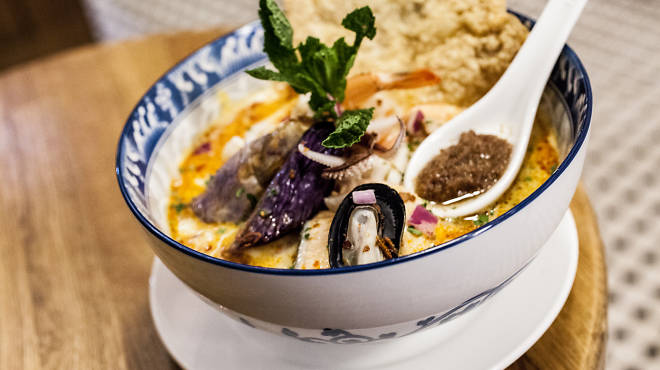 Who said Little Italy is only about pizza and pasta? This little Malay restaurant will prove you wrong. The menu is a combination of delicious hotpots such as Laksa (spicy Peranakan noodle soup) to Tolemak (coconut milk rice, the country's national dish). You can also order a large variety of Curries and other tasty Malay options. A nice place to sit, enjoy a nice dinner and plan your evening out as the restaurant also provides free WiFi.
Info:  Aux Epices| Average entree: US$15
121 Baxter St, Chinatown & Little Italy New York 10013
between Canal and Hester Sts |+212-274-8585
Daily 11am–10pm
Discounted Museums and Attractions
To get a deal at the city's top museums and attractions, purchase a citypass, a flat-rate ticket for entry to 6 attractions. You have 9 days to visit the Empire State Building, Museum of Modern Art (MoMA), Metropolitan Museum of Art, American Museum of Natural History. You may choose between either the Statue of Liberty and Ellis Island or Circle Line sightseeing cruise and the Guggenheim Museum or Top of the Rock Observation Deck. If you're only in town for the weekend and don't have 9 days to cover the best of the city, head to the MoMA on Fridays between 4 and 8 for free admission.
Nightlife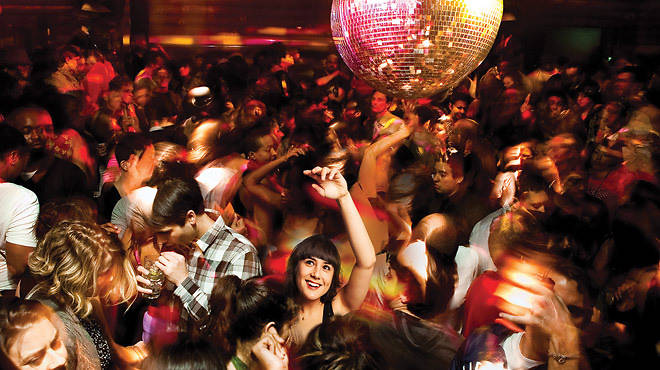 The city has a lot of options for you that like to have a good night out, but do not like to spend too much. No night is the same in the city, and sometimes it gets a bit hard to find out what is going on. You can check this website for great options, from gallery openings (free wine!) to alternative venues.
Transportation
Subway 
 The subway in New York is reasonably priced and certainly one of the best options in order to get around the city. For visitors staying for a longer time, you can buy a one week unlimited MetroCard for $30 or an unlimited monthly for $112. The 7-day, or 30-day unlimited card run out at midnight on 7th or 30th day of use. You can buy them at subway stations with cash, credit or ATM/debit cards. Be aware that buses only accept MetroCards or exact fare in coins — drivers cannot make change.
In general, New York City subways run every 2-5 minutes during rush hour, every 5-15 minutes during the day and approximately every 20 minutes from midnight until 5 a.m.
Taxi
Contrary to what you may expect, taxis in New York are relatively cheap if compared to most countries in Europe. Prices are controlled by the government.
It does take a bit of a fight to get available ones. Just make sure to remember – when just the center is lit, highlighting the medallion number, the cab is available. When the medallion number, as well as the side lamps are lit, the cab is off-duty. When no lights are lit, the cab already has a fare they are bringing to a destination.
If you have other NYC tips, please share them on the comments below!
Thanks to:1 2 3 4 1 6 7 8 9 10
Comments: