The holiday season is just around the corner, and although families all around the world gather for a big feast, some cultures do not share quite the same traditions. From controversial figures to exotic food, different countries offer very unique rituals that must be explored.
If you are planning an international getaway this holiday season, it's extremely important to research the local traditions, so you are not made fun of due to your lack of regional smarts.
We wanted to help you out and selected some of the world's most exotic ways of celebrating Christmas. Hence, prepare yourself for some exotic eating and controversial personalities and traditions.
Russia & Ukraine
In Russia and Ukraine, Christmas is celebrated on the 7th of January. This unusual date is due to the Orthodox Church's use of the old Julian calendar for religious celebration days. So if you are traveling to one of these countries get ready for some special prayers as well as fasting. Sometimes even up to 39 days, until you are allowed to binge eat in a twelve course meal with hot roast Pirog (Russian pies made out of meat or cabbage), and Pelmeni (meat dumplings) in celebration of the twelve apostles.
Ireland

Santa skips his milk and cookies while flying over Ireland. There, it's tradition to leave him mince pies and a bottle of Guinness. Although not everyone follows this tradition, it is a common practice. True or not, we sincerely hope he has a designated elf.
Spain, Portugal & Italy
In these southern European countries, it is tradition to set up a model village of Bethlehem. Alongside Mary, Joseph and baby Jesus, there is also a character called Caganer or "shitter" in English. Traditionally, this man has his pants around his knees and a pile of feces behind his heels.
Czech Republic
Single Czech women perform a very unusual tradition on Christmas' Eve.  It is traditional for these women to stand with their backs to their house, and throw a high heeled shoe over their shoulders towards the front entrance. If the shoes land with the heels facing the door, that means they will remain single for another year. While, if the shoe points toward the door, then it may be a good time to start the wedding planning.
Sweden
For over 40 years, the town of Gavle erects a goat made of straw to mark the beginning of the holiday season. Every year vandals try their best to finish the poor goat. The goat has survived to see Christmas only 10 times since 1966.
Venezuela
In the country's capital Caracas, main roads are closed to cars during Christmas. This due to residents need to roller-skate to mass.
Iceland
In Iceland they do not only have one Santa, they have thirteen! They are called "Jolasveinar"or Christmas boys as it could be translated into English. Santa's first appeared in the 17th century as the sons of the two trolls, Gryla and Leppaludi. Gryla and Leppaludi are terribly frightening creatures, and had a reputation for stealing and eating naughty children. These creatures children are named: Stekkjastaur (Sheepfold Stick), Giljagaur (Gilly Oaf), Stúfur (Shorty), Þvörusleikir (Spoon-licker), Pottasleikir (Pot-licker), Askasleikir (Bowl-licker), Hurðaskellir (Door-slammer), Skyrgámur (Skyr-glutton), Bjúgnakrækir (Sausage-pilfer), Gluggagægir (Peeper), Gáttaþefur (Sniffer), Ketkrókur (Meat-hook) and Kertasníkir (Candle-begger). As you can tell from these names, the lads are very mischievous and they have retained their unique characteristics to this day.
Netherlands
In the Netherlands, Sinterklaas comes on his horse and alongside his helpers Zwarte Petes during Christmas time. These characters have been controversial figures in the country, as many people see them more as slaves than helpers. Every year, Sinterklaas visits a city in The Netherlands with the aid of his loyal helpers which usually goof around while handing candy to the shrieking children.
Japan
For many people in Japan, their Christmas feast consists of KFC. Some say that the fast food restaurant used to advertise that Americans would eat KFC when alone during Christmas. Japanese picked up the story and pack up their local branches.
Greenland
If you are going to Greenland, do not expect turkey. For Christmas, locals enjoy some "Kiviak" which consists of raw flesh of an auk wrapped in seal skin and buried under a rock for several months. Until it's well into decomposition. Also leave some space for some "Mattak". Which consists of whale skin with a strip of bubbler inside.
Slovakia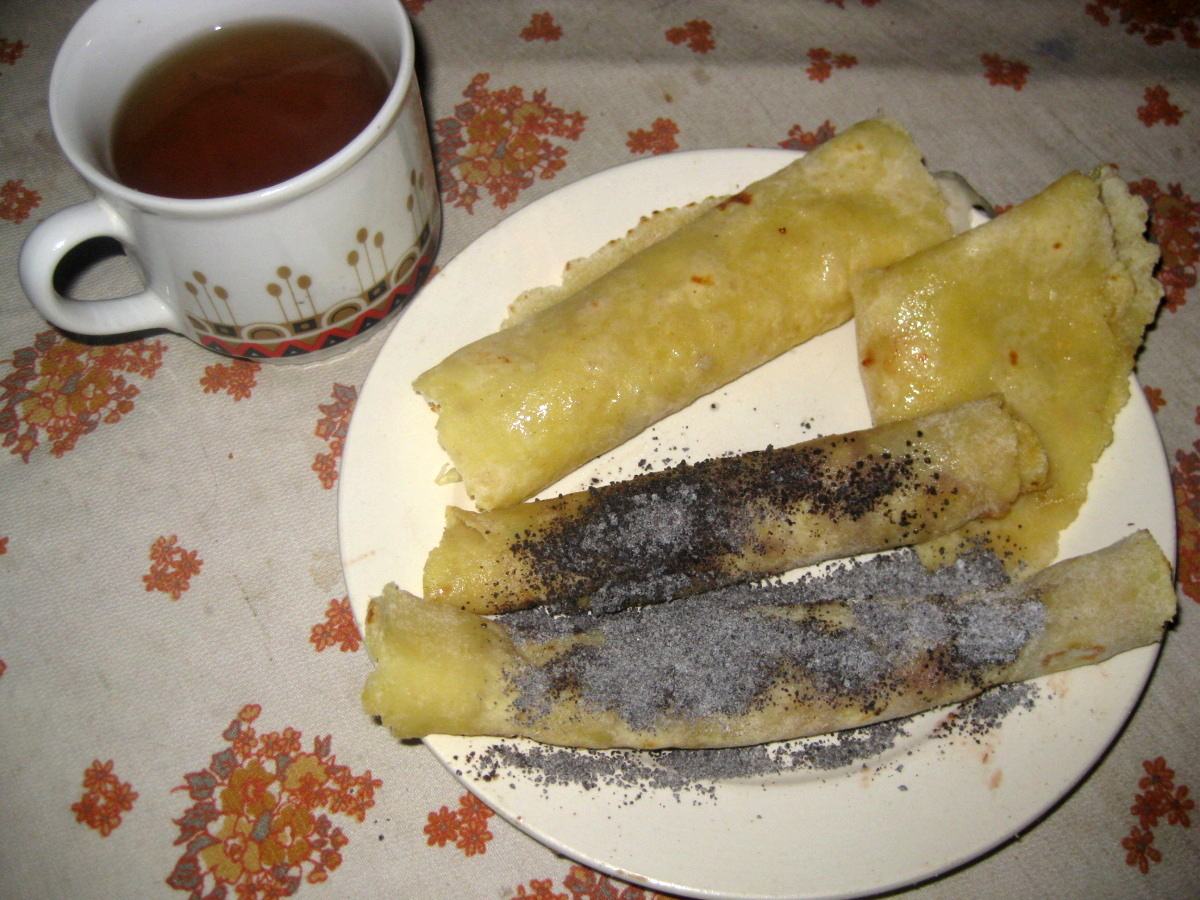 In Slovakia, the head of the family takes a spoon of Loksa ( a traditional Christmas dish made of bread, poppy seed filling and water), and throws it to the ceiling. The more the texture becomes glued to the ceiling, the richer his crops will be in the following year.
Do you have any interesting Christmas' traditions in your country? Please share them on the comments below!
Thanks to: 1 2 3 4 5 6 7 8 9 10
Enjoyed it? Share it!