And that jolly time of the year has arrived once again! When lights and pine trees emerge from their hiding places, shops dust off their best Christmas tunes, and festive sweaters shamelessly parade throughout town.
Christmas is just around the corner, and with each year it starts a little earlier, as people don't seem to get enough of it. If your traditional holiday cheer is less than merry and you would rather skip your local festivities, we are here for you!
We have selected some of the world's best Christmas destinations, so you can get your Grinch on, but still secretly sip on some mulled wine and roast nuts elsewhere.All of these destinations will assure you of unforgettable Christmas stories, being by visiting the iconic Christmas markets in Europe, or relaxing on a beach, creating your own sandy version of a white Christmas.
Amsterdam
Amsterdam gets very festive during the holiday season. Where "Sinterklaas" is awaited by 16th century houses filled with lights and flashy ornaments. Cozy Christmas markets emerge on 'Leidseplein' and 'Rembrandtplein'–Amsterdam's main squares – alongside ice rinks, where locals show off their renowned ice skating skills. Do not forget to taste the local "Oliebol", a deep fried pastry that will definitely keep you warm.
 Munich
In Munich, you can enjoy the hundred foot tall Christmas tree and a dozen Christmas markets, where you can cultivate your holiday belly with some gingerbread and international cuisines. The markets also house different attractions including a Medieval Christmas Market with gospel singing at the Wittelsbacher Platz, a gay pink Christmas Market (Stephansplatz), and if you have forgotten anything before leaving for home there is even a Christmas Market with ice skating facilities at Munich's international airport.
Reykavik
The Icelandic capital is famous for its quirky Christmas traditions, where the 12 mischievous Yule Lads (the local version of Santa) are the protagonists.  Locals enjoy 4-hours daylight and northern lights during that period, meanwhile, you can relax in one of their many thermal pools or stuff your stockings with some smoked puffin and  shots of Brennivín (firewater) in local restaurants. The city has also several Christmas markets and the picturesque Hafnarfjordur Christmas Village (Jólaþorpið í Hafnarfirði) for a fun afternoon/night affair.
Rio de Janeiro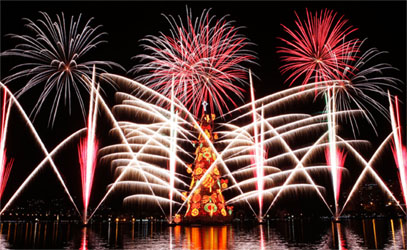 Who wouldn't like to spend Christmas in a place where Santa dresses down to silky garments in order to bear the summer heat? If you think the city has no Christmas spirit, think again, Rio still holds the title for the biggest Christmas tree in the world. In between the beach hopping, you can enjoy some local Rabanadas (French toast with cinnamon and sugar) or any of the delicious local food. If your trip extends throughout NYE, get prepared for the millions of people and fireworks that embellish Copacabana Beach.
Boston
The city is the epitome of Christmas in America. The New England styled streets are covered in snow and the scents of traditional food fill every corner. The city is known for its celebration of Christmas ghosts past in the Christmas Revels at Harvard's Sanders Theater. The city is also filled with Christmas markets as well as other numerous attractions that will attend to all of your Christmas' requirements.
San Miguel De Allende
This city has one of the most eclectic Christmases in the world. While the weather is far from frosty, you can enjoy some of the local theatrical processions, as well as the many reenactments that take place in this beautiful Unesco World Heritage Site. The city does not have beaches as its compatriots Cancun, Cozumel, or Los Cabos, but if dishes made with fresh, locally sourced ingredients and a cozy environment sounds like Christmas, this is the place to be.
Goa, India
This Indian city is a perfect destination if you enjoy beautiful beaches, warm weather and great Goan food. This destination has become a big hit among foodies due to its incredible and versatile cuisine. Goa is a place to relax listening to Carols, or Jazz in some of the biggest resorts in the city.
New York City
New York City is one of the first destinations when a traditional Christmas is something you crave. From ice-skating around the majestic tree at the Rockefeller Center to carriage rides through Central Park, the city has something to offer to every Christmas fan. The city is also known for its great shopping areas, you can buy your holiday gifts from massive chain stores at the Time Square or some unique pieces at the LIC Flea and Food Market in Queens.
Barbuda, Caribbean
If your soul needs some tropical isolation, the best place for your holiday season is in this paradisaical destination. Being a Grinch has never been so appealing, when your days are filled with snorkeling through coral reefs or kayaking in crystalline waters. Take a flight to Antigua and enjoy a scenic (booked) ferry ride to the island.
Vienna
The gorgeous Vienna becomes even more beautiful during the holiday season. Experience some of the local glühwein and roast chestnuts in the numerous Christmas markets throughout the city. The town hall also sports a beautiful advert calendar decoration, where with each day, a different painting is revealed once a window is opened. You can also enjoy beautiful ceremonies in the Ukrainian Catholic Orthodox church and eat some of the delicious local dishes.
Remedios, Cuba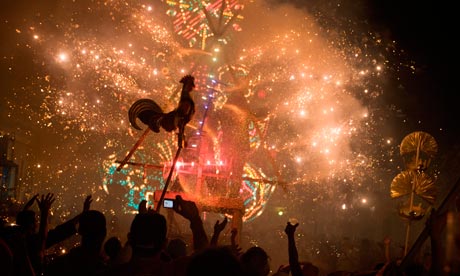 Fireworks decorate the night of Christmas in this picturesque Cuban city. Colorful floats parade through town, and the cheering people flock to the city's main square for a huge party. You can also feast on the delicious local food like Yuca con Mojo and the best Tostones (fried plantain). Join one of the "El Carmen" or "San Salvador" teams and parade through the old streets for an unforgettable night. If the next day you are still hungover, wash it off in some of its amazing beaches in the nearby archipelago.
Do you agree with our list? If not, please leave us your favorite Christmas destinations on the comments below.
Thanks to: 1 2 3 4 5 6 7 8 9 10 11 12 13
Comments: